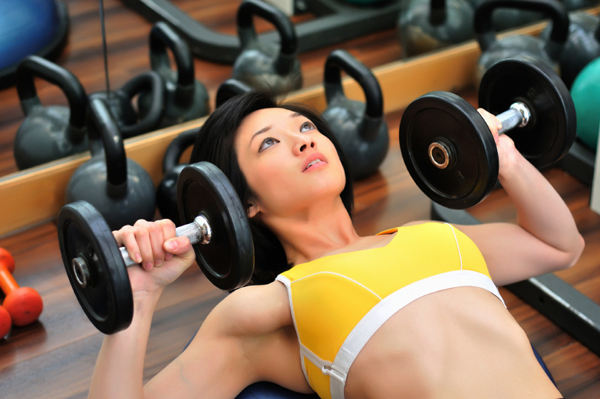 I don't think a week goes by that I don't meet a prospective client that unveils a specific injury that they have suffered
10..sometimes 15 or 20 years earlier
. The other day, I met a healthy looking 54 year old who was interested in participating in a program to help keep his muscles strong and balanced, and simply improve his general health. However, he kept speaking of a pulled calf muscle (strain) he suffered back in his high-school lacrosse days. I asked him if his heel bothered him today. He answered "No". But he followed his response with, "but sometimes when I'm running, I will feel something...or '
think
' I feel something."
Another client I met earlier in the month, could not stop talking about about her meniscus surgery which she under-went in 1986. Presently, she was active--playing tennis 2 days a week, golf (18 holes) 1 day a week, and walking on weekends at her beach home. I asked, "does the knee ever bother you during those times?"

Her response: "No".
A client I met last month could not stop talking about a 'elbow pain' after a fall. Apparently, he was walking up stairs and placed his foot too close to the edge of the step. That step had some ice on it and his foot slipped off. He broke the fall by outstretching his arm and holding his body up. Although, his body never touched the ground, he dropped to a knee thanks to his out-stretched right arm. That elbow seemed a bit traumatized after that episode, but he stated there was never any apparent swelling--just a 'twitch'. I could easily visualize his story because it has happened to me quite a few times--minus the ice. I asked him how recent this was and his reply was, "about 5 years ago". I stood there for a second and realized his story-telling skills painted a picture of last winter. Only when I heard his response, reality hit and I realized it was 5 years ago! Why is he talking about it like it was more recent??
As a fitness professional--who has undergone injuries and surgeries himself--I am always intrigued at how people identify their present fitness level with a injury suffered from the past. For instance:
"I gained about 20 pounds after I got into a car accident when I was a senior in high school".
"I haven't done any weight-training since my low back pain started up about 2 years ago."
"I put on the dreaded 'freshman fifteen' and then I started having knee pain during basketball season. I never continued to workout because of my knee and now that 15 turned to 25 pounds."
In 1996, I suffered a complete tear of my left pectorals tendon during a normal bench pressing session at the college gym. I wrote about the injury
here
. It was a traumatic injury for me--because at the time I was 22 and just started to really dedicate myself to strength training. I was making some real gains and getting strong pretty fast. A pec tear
(not a strain as many may mistakenly assume)
is serious. After an MRI, I was off to see 3 (not 1, but 3) different orthopedic doctors. The third doctor described the surgery to me and scared the hell out of me. I elected to not get the surgery and rehab and live with the muscle tear myself. For years, I never revealed my injury to anyone. I modified my workouts, but I never wanted to have anyone feel "sorry" for me; or "identify me as the guy with a pec tear". I never used my pec tear as an excuse to not exercise or to even bench press:
Four years later, I was having left shoulder pain (on the same side of the pec tear). By then I was full-fledged into my career as a personal trainer for a commercial gym and the shoulder pain was hindering my attitude, physical ability, and workouts. I had to get it fixed. After seeing two orthopedic doctors, I elected to get shoulder surgery. I was out of work for 2 weeks. When I returned, I didn't wear a sling. Only my employers knew why I was out. I modified my workouts and got SMALL. But I knew it was only a matter of time before I returned to my previous status and I just needed a healthy dose of patience.

Recently, I have suffered my second pectoral tear. And within 3 weeks, I had returned to the gym--although not performing any upperbody exercises--but I am determined to rehabilitate myself to a functional capacity as soon as possible.


So, as an injury sufferer, why do people WANT to hold on or identify themselves with injuries--especially injuries from the past? Here are some reasons that I have come up with in my experience:

People want to have a 'handicap'. It is a free ticket to validate the excuses they have. Take for example the women that claims she was in a car accident 7 years ago. She has gained weight that has left her unhappy; however, she still engages in activities that remain in her comfort zone. Activities of daily living such as walking, pushing a shopping cart, sweeping, and getting in and out of cars. In order to shed some unwanted pounds, she must work outside a capacity that she "knows" or is aware will be outside of her comfort zone. This comfort zone has constructed a barrier that will not allow her to work hard enough to reach a new potential in her battle with the bulge. Therefore, her brain sends a 'trigger' that validates her fear of traveling beyond this comfort zone. That signal comforts her decision to back down by reminding her that her limit is justified by a mishap that occurred a long time ago. This mishap or accident or injury has created a barrier, but that barrier has not interfered with other lesser involved activities.

People want to control the threshold. People know that they they need to exercise. Some people know that they need to exercise hard. And some people think that exercise is 'supposed' to hurt (wrong adjective). So when they approach a fitness trainer to help them, they know they are trading some self-control for outside motivation, instruction, and coaching. This sparks a 'fear'. As humans, we don't like to lose control--especially when getting ourselves involved in things that we really don't know what may happen (think amusement park ride fears). A way to 'control' the threshold is by setting up 'road-blocks'. These road-blocks are reminders to the coach that there is a history of injury and that this particular person may not want to move beyond a certain threshold. The injury may validate their fears or ignorance. And in some instances, it works. One day while I looked out the window waiting for a client, I watched him hop up 35 stairs. When he entered the fitness center he stressed to me that he didn't want to do any lunges or squats because of his "past knee injury". Of course, his knee didn't bother him as he leaped up the stairs; nor as he left me an hour later to play 18 holes of golf.

Not at fault. People know they should exercise (as I mentioned), but they never get around to it. There attitude and bodies are a result of that. Therefore, they don't want to take the fault for what we, as fitness professionals, see. So an injury gives them a feeling of comfort knowing that something outside of their control has deliberately decided their fate. Its an easy cop-out, however, its an a difficult one to accuse upon others.



So how do we get around this? We want to get people to their goals, but we want them to WANT to walk with us. Not all injuries are to be taken lightly. I understand this and I hope you do to. Many injuries that may have occurred in the past, may still bother them to a certain degree. The answer is, we need to EMPOWER our clients to understand and overcome any types of adversity that stands in the way of a goal. Whether that goal is to run a 5K marathon for the first time ever, lose 30 pounds, or live longer. To empower a client gives them back the control in their life and pulls them away from the dependency of excuses that they are surrounded by.

How can you empower a client that harbors a past injury as an excuse?

1.) Information - Care for your clients doesn't start and end when they show up for a session. If you are Internet savvy, research some links to show them how people cope with injuries and how they can rehabilitate--both mentally and physically--from them.

2.) Send them motivational quotes or video clips. I don't know about you, but when I search YouTube and find awesome motivational speeches, movie clips, or ads---it really pushes me to forget my petty excuses--torn pec and all--and walk run towards my gaols. Do the same for your clients. In this day in age of email. I send my clients stuff almost daily. It takes about 15 minutes of my time and they love it!



3.) Teach them exercises that work around past injuries. Okay, so maybe you know your client is being over-sensitive to a past injury. So work around it. In order to really empower someone, you have to have them crawl, walk, run, towards a goal. You can achieve this by using progressive exercise design that mentally prepares them for the more challenging stuff that lies ahead.