My current intern does great with me. He sits with me for about 60 minutes a week and we go over exercise programming, communication, and client "handling". The other day, I had him go over some forms at the main desk--where the facility entrance is--and greet some of the clients walking in. This was a chance to "open him up" and speak to strangers. I figured putting him in a position where he will see alot of foot traffic, will require him to get a little '
uncomfortable'
because the chance of some dialogue is greater. Again, my intern does a great job carrying out a conversation with me, but then again, personal training is also about building a "working" relationship with your client. That working relationship begins with EYE CONTACT. So this particular day was a lesson.
As I worked with my client, I kept my eye on my intern and watched him greet and speak to people walking in and out of the facility. With each person that spoke to him for more than 30 seconds, I noticed he had a hard time looking them in the eyes. He smiled, yes...occasionally glanced. But sometimes, as a person spoke to him, I noticed he kept looking down, around, and up. What could this mean?
It could mean alot of things. But let's put it into perspective as a professional fitness trainer. A customer likes to be looked at in the eyes. When one speaks and looks at another in the eyes, it is a sign of
confidence
,
trust
, and
respect
. Some salespeople are often deceptive as they will look at someone in the eye, until they say something that is untrue and they will look away for a VERY brief moment. Those moments are quick and go unnoticed. Some people just plainly suck and can't even look at another in the eyes. Nothing new here...this is stuff you can see in an episode of CSI or some court room drama.
How does this translate to a personal trainer? Think back to how many times you have lost a sale and it probably had to do with not WHAT you said, but HOW you said it. If you neglect to make eye contact with a potential customer, the customer may sense bullsh*t. That BS may seem like
lack of confidence
,
lack of respect
, or overall, a
lack of customer service
. That customer may think you are not confident in helping them reach a particular goal and therefore, asking for $500 personal training fee is an uphill battle. You place
DOUBT
in your customer's mind when you de-value your service. There are several ways thta you can devalue your service:
1.) Dressing like a guido scumbag
2.) Acting like a guido scumbag
3.) Showing no respect to someone that you certainly want something from.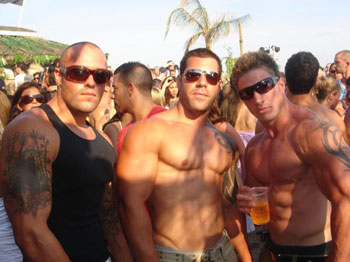 If your lack of eye contact is born from a lack of confidence--whether in exercise programming or sales--its time to address it. Read books and watch DVD's to learn as much as possible and once you learn all these new concepts; don't leave them bottled up inside your head---TRY THEM!
If sales are not your strong point, purchase some selling materials and practice in front of a mirror. My first few years, myself and fellow trainers would role-play in between clients to perfect our sales tactics. Sit across from one another and learn how to make your presentation. It is imperative that you are confident in what you do and can prove results. If not, your sales presentation is a complete hoax. So take your time and address your weak points. Once you master that, work on your communication skills. Addressing people by name, making eye contact, and building trust within the first few minutes of a meeting are essential to your business.
I talk about many of these traits in my book. Check it out
here
to find what traits can use some development to help you excel in personal training.